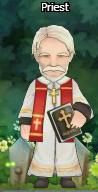 The Priest in Lunaria City does Wedding. He can be found to the right of Lord Dray, above Kiki and to the left of Bill.
His task is the help people who need to marry, you can marry when you have a friend of a opposite with a intimacy of 2000.
Ad blocker interference detected!
Wikia is a free-to-use site that makes money from advertising. We have a modified experience for viewers using ad blockers

Wikia is not accessible if you've made further modifications. Remove the custom ad blocker rule(s) and the page will load as expected.