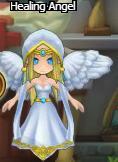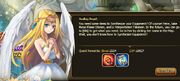 The Healing Angel stands to the right of the Mysterious Wandering Scholar in Lunaria City.
Players are sent to her by the Mysterious Wandering Scholar. She gives the players Flame Stones to Synthesize their Equipment with. She recommends they go to Kiki in the future to get some.
She then sends them to the Equipment Shop Owner to learn about synthesizing.
Ad blocker interference detected!
Wikia is a free-to-use site that makes money from advertising. We have a modified experience for viewers using ad blockers

Wikia is not accessible if you've made further modifications. Remove the custom ad blocker rule(s) and the page will load as expected.