You can enhance your equipment up to level 100, in theory, but it is capped at your level. To enhance your might, you need a lot of silver. As level increases, rate of success also decreases.
There is a 5% success increase of enhancing everyday at 12.00-13.00 and 20.00-21.00. You can also increase the rate of success with Blessing Stone. The higher the level of the equipment enhanced, the more of its attribute it gives.
When all your equipment (10) is enhanced to certain levels, you can also gain an attack boost. This is respectively starts at 40 and more attack is gained every ten levels after that.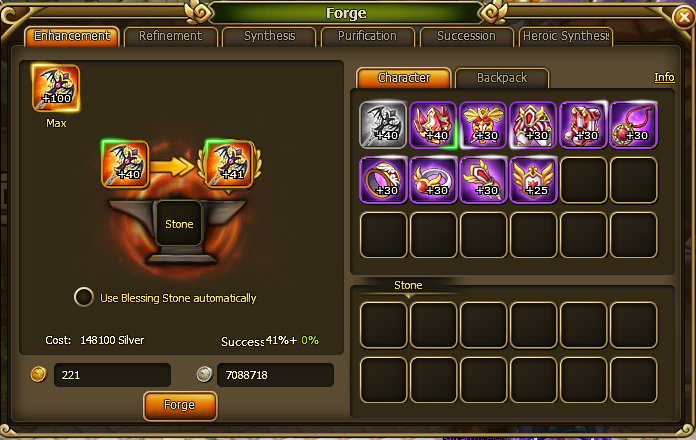 | Level (0>1) | Silver Cost | Success |
| --- | --- | --- |
| 1 | 100 | 100% |
| 2 | 300 | 100% |
| 3 | 700 | 98% |
| 4 | 900 | 96% |
| 5 | 1.100 | 94% |
| 6 | 1.300 | 92% |
| 7 | 1.500 | 90% |
| 8 | 1.700 | 88% |
| 9 | 1.900 | 86% |
| 10 | 3.100 | 84% |
| 11 | | |
| 12 | | |
| 13 | | |
| 14 | | |
| 15 | | |
| 16 | | |
| 17 | | |
| 18 | | |
| 19 | | |
| 20 | | |
| 21 | | |
| 22 | | |
| 23 | | |
| 24 | | |
| 25 | | |
| 26 | | |
| 27 | | |
| 28 | | |
| 29 | | |
| 30 | 64.100 | 51% |
| 31 | | |
| 32 | | |
| 33 | | |
| 34 | | |
| 35 | | |
| 36 | | |
| 37 | | |
| 38 | | |
| 39 | | |
| 40 | 148.100 | 41% |
| 41 | | |
| 42 | | |
| 43 | | |
| 44 | | |
| 45 | | |
| 46 | | |
| 47 | | |
| 48 | | |
| 49 | | |
| 50 | | |
| 51 | | |
| 52 | | |
| 53 | | |
| 54 | | |
| 55 | | |
| 56 | | |
| 57 | | |
| 58 | | |
| 59 | | |
| 60 | | |
| 61 | | |
| 62 | | |
| 63 | | |
| 64 | | |
| 65 | | |
| 66 | | |
| 67 | | |
| 68 | | |
| 69 | | |
| 70 | | |
| 71 | | |
| 72 | | |
| 73 | | |
| 74 | | |
| 75 | | |
| 76 | | |
| 77 | | |
| 78 | | |
| 79 | | |
| 80 | | |
| 81 | | |
| 82 | | |
| 83 | | |
| 84 | | |
| 85 | | |
| 86 | | |
| 87 | | |
| 88 | | |
| 89 | | |
| 90 | | |