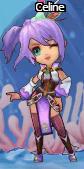 Players are sent to meet Celine by the Expert Elementalist. She claims her friend re-captured the Tablet from the Elementalist thief who stole it, and diverted them away from the village. She has the player take out some Lethal Seahorses for her.
She then asks them to clear out crazed Relic Chests and mention that the tainting of the Tablet has something to do with why the creatures are dangerous.
She tells the player to seek out the Jewel Collector.
Ad blocker interference detected!
Wikia is a free-to-use site that makes money from advertising. We have a modified experience for viewers using ad blockers

Wikia is not accessible if you've made further modifications. Remove the custom ad blocker rule(s) and the page will load as expected.